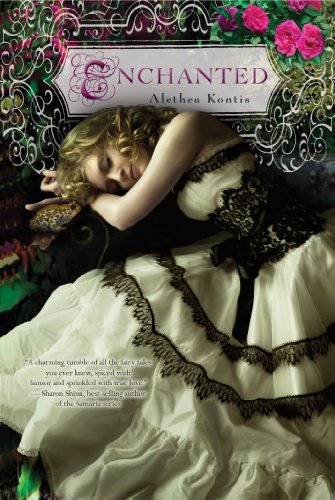 Synopsis from
Goodreads
:
It isn't easy being the rather overlooked and unhappy youngest sibling to sisters named for the other six days of the week. Sunday's only comfort is writing stories, although what she writes has a terrible tendency to come true.
When Sunday meets an enchanted frog who asks about her stories, the two become friends. Soon that friendship deepens into something magical. One night Sunday kisses her frog goodbye and leaves, not realizing that her love has transformed him back into Rumbold, the crown prince of Arilland—and a man Sunday's family despises.
The prince returns to his castle, intent on making Sunday fall in love with him as the man he is, not the frog he was. But Sunday is not so easy to woo. How can she feel such a strange, strong attraction for this prince she barely knows? And what twisted secrets lie hidden in his past - and hers?
This book has been on my to-read list for probably over two months now and it was seriously irking me when I couldn't find the darn thing anywhere. Since I have perhaps not a penny to my name, it's become virtually impossible to buy myself books and I've had to revert back to borrowing from the library. *Sigh* Any who, yesterday I hit the jackpot in our mobile library and snagged Enchanted and a few other books I was dying to read. But enough about that. Onto the review!
Enchanted is about a girl named Sunday who meets a prince-turned-frog (but she doesn't know he's a prince or the prince to be exact). They meet, they fall in love, and she kisses him, unknowingly turning him back from amphibian to man. Typical Princess and the Frog story right? Wrong! The story then accelerates, as the prince returns to his home and vows to meet Sunday yet again and show her that he is the frog, the one whom she loved. From the introduction of Sunday and her eccentric family to the palace, an adventure ensues, one with magic and romance, secrets and lies, and most of all, the endurance of the bond of relationships.
I've never read a book like Enchanted. It's true. Sure, we've all been read or read the classic fairy tales. But not like this. Kontis managed to not only write an extension to a tale but also managed to intertwine many other stories into the story like Jack and the Beanstalk, the Dancing Slippers (I think that's what it's called), and Sleeping Beauty. Some were so subtle, you barely recognized them and others were so evident, they became an integral part of the plot. I loved that! It was quite refreshing to read a different take on the classic tales of Grimm.
Sunday. Such a strange name for such a strange girl. And she's doomed to happiness. What a strange thought. That's another reason this book pulled me and wouldn't let go of my interest. It was so alike and different than other fairy tales I had read. Through out the book, Sunday reveals that she is afraid, she is selfish, she is jealous, and evil. Of course, she's not really all that bad. But how many classical characters in fairy tales do you think admitted their human faults? Not many right? Another reason I was so intrigued. Kontis brought her characters to life not by making them heroic and noble and completely good but by showing that everyone has shades of grey, everyone has a darker side, and not everyone is perfect.
I loved all the characters of the book. From the prince, Rumbold to Sunday to even the villain of the story (who is it.... I'm not telling *sticks tongue out*). Each had such depth and no one was perfect. But that added to their perfection as the characters in such a strange and intriguing book. Each fit in.
Now let's get down to the meat of the story and what we all usually look forward to... *drumroll*... the romance between the Prince and his beloved Sunday. Whether it be as a frog or as a man, Rumbold was able to support Sunday, act as her friend through out her dilemmas and yet show her that he was so much more. Their parts together had me going aw at some points and practically tearing my hair out the next. The love between them was an understood connection and it was beautiful to watch it form and turn mature. Speaking of becoming mature, it's surprising to watch the rich, spoilt, and strangely depressed pre-enchanted prince morph into the new prince, one with a vigor for life, love, and friendship.
Definitely a great read. If you're interesting in fairy tales with a twist and then some more, you should definitely try this one out. I read Enchanted in one sitting! (Not including bathroom breaks of course).